Military T-Shirts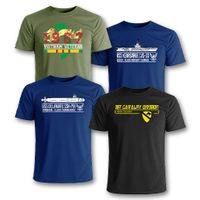 Here at PriorService we bring you a wide selection of Military T-shirts. We provide plenty of colors for you to choose from and you can choose a military tee for all military branches, active Army and Marine Corps Division and more. We also offer a large selection to wear for US wars and operations including World War II, Korean War, Vietnam, Operation Desert Storm, Operation Iraqi Freedom and Operation Enduring Freedom. Our line of POW*MIA is extremely popular and
we send proceeds from every t-shirt sale
to the POW*MIA association.
100% customer satisfaction guarantee
We offer T Shirts made by Military Productions, Ranger Up, Wingman Apparel and more.
Our selection of ďcollegiateĒ style
Army Unit
apparel is extremely popular. This design is more clean and neat than is typically seen in other unit garb. Our
USMC Pain is Weakness Leaving the Body
has been one our best sellers for years. We offer a wide selection of
Army
and
Marine T-Shirts
with many divisions and slogans available. Our selection of veteran apparel is un-matched. We offer a huge selection from
US Wars and Operations
over the last 60 plus years. Our selection of several different styles of Vietnam Veteran t-shirts provides a good range to fit each personís tastes. We have recently introduced and new and exciting t-shirts designs. Some of the hottest designs are our Oath of Enlistment,
Saint Michael Archangel
, Patriotís Day, and
Fallen Warrior
t-shirts.
They are a great way to show you pride in your service to our country or the proud service of a friend or family member. Please sign up for our email list as we are constantly adding new and exciting designs.
Our t-shirts all come in sizes Medium through XX-Large with select ones having Small and XXX-Large available. All are pre-shrunk and as always come with a 100% customer satisfaction guarantee.
More Color and Wording on our New Shirts selection


In the past, Military t-shirts were typically gray with black lettering that simply read: ARMY, NAVY, MARINE CORPS or AIR FORCE. We are pleased to now offer several more options when you choosing Military Apparel. We have many more color and wording options available so you can find one that is right for you. Available for all military branches, all active Army and Marine Corps Divisions, all Army Branches of service.

We also have a great selection for all veterans of US wars and operations including World War II, Korean War, Vietnam War, Operation Desert Storm, Operation Iraqi Freedom and Operation Enduring Freedom.

T-shirts are perfect for any wardrobe, they are comfortable to wear and go great with a pair of jeans or even khakis. Military t-shirts make a great gift for any occasion and any person on your shopping list.